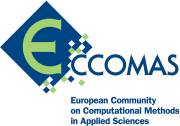 Dear Dr. Daxner
The meeting of the Evaluation Committee for the ECCOMAS award for the best PhD thesis 2002 was held on June 16 at CIMNE, Barcelona. As an answer to the call for tender, the ECCOMAS member associations nominated 17 theses. We are pleased to inform you that your dissertation was among them.
The Committee decided unanimously to split the Award between Dr. P.D. Ledger (University of Wales at Swansea) and Dr. S. Müller (Swiss Federal Institute of Technology, Zürich).
As a finalist in the selection process, ECCOMAS is pleased to extend a diploma certifying your nomination.
On behalf of ECCOMAS we would like to thank you for your participation in this award.
Nils-Erik Wiberg

President of the Evaluation

Committee for the ECCOMAS PhD Award

Eugenio Oñate

President of ECCOMAS