Research Interests
<![if !supportLists]>§ <![endif]>Space Propulsion (Electric- and Miniaturized Propulsion, New Concepts, "Breakthrough Propulsion Physics")
<![if !supportLists]>§ <![endif]>Micro Power Sources and Converter Technologies
Short CV
2014 –

2012 –

Director, Institute for Aerospace Engineering, Dresden University of Technology (TU Dresden), Germany

Full Professor (W3) and Head of Space Systems Chair

<![if !supportLists]>― <![endif]>Main Research Topics: Small Satellites, Energy Systems, Space Propulsion & Advanced Concepts

<![if !supportLists]>― <![endif]>Leading a Team of 25 Scientists/Engineers, Laboratories/Clean Room and 35 Students/Year

2012 – 2014

2010 – 2012

Adjunct Professor, Department of Aerospace Engineering, KAIST, Republic of Korea

Associate Professor, Department of Aerospace Engineering

Joint Professor, Department of Physics

Adjunct Professor, KAIST Institute for the Nanocentury

2011 – 2012

Head of Aerospace Engineering, University of Applied Sciences Wiener Neustadt, Austria

2000 – 2010

Austrian Institute of Technology (previously Austrian Research Centers Seibersdorf), Austria

<![if !supportLists]>- <![endif]>Head of Business Unit "Space Propulsion & Advanced Concepts" (2005 - 2010)

<![if !supportLists]>- <![endif]>Principal Scientist (2003 - 2004)

<![if !supportLists]>- <![endif]>Senior Scientist (2000 - 2002)

1999 – 2000

Young-Graduate-Trainee, Electric Propulsion Section, ESTEC, European Space Agency, The Netherlands

1998 – 1999

Managing Director, AUSTROSPACE (Association of Austrian Space Industry), Austria

1998

Internship, Advanced Propulsion Group, NASA JPL, USA
Education
| | | |
| --- | --- | --- |
| 1999 | PhD (Numerical Plasmaphysics) | Vienna University of Technology, Austria (with Distinction) |
| 1998 | MSS (Master of Space Studies) | International Space University, France |
| 1997 | Dipl.-Ing. (Engineering Physics) | Vienna University of Technology, Austria |
Awards
<![if !supportLists]>§ <![endif]>Best Paper Award – SPESIF Conference 2010 (Fiber-Optic-Gyroscope Measurements Close to Rotating Liquid Helium)
<![if !supportLists]>§ <![endif]>GENIUS Ideas Competition 2009 – Special Award (Innovative Energy Storage using Metal Hydrides as Fuel Cell Energy Recovery System)
<![if !supportLists]>§ <![endif]>Ritter von Ghega Award – Outstanding Innovation of the Year 2009 (1st Prize – Research Centers, Innovative Hydrogen Storage in Hollow Glass Microspheres)
<![if !supportLists]>§ <![endif]>Outstanding Paper Award – STAIF Conference 2007 (Frame Dragging of Spinning Superconductors)
<![if !supportLists]>§ <![endif]>GENIUS Ideas Competition 2007 – Award for Environmental Technologies and Renewable Energy Sources (Microsphere Hydrogen Storage System)
<![if !supportLists]>§ <![endif]>Outstanding Paper Award – STAIF Conference 2005 (Weight Measurements of Superconductors)
<![if !supportLists]>§ <![endif]>Creative Scientist of the Year Award 2004 (2nd Prize)
<![if !supportLists]>§ <![endif]>ARCAward 2001 (1st Prize Science)
<![if !supportLists]>§ <![endif]>NRC Fellowship to NASA JPL (2000, declined for position at ESA ESTEC)
<![if !supportLists]>§ <![endif]>US Air Force Window-On-Science Award (several prizes throughout 2000-2006)
<![if !supportLists]>§ <![endif]>Austrian Research Community – International Communication Award (1999)
For more than a decade, I've been developing several different propulsion systems. My main focus was on the realization of Field-Emission-Electric-Propulsion (FEEP) thrusters, that enable ultraprecise attitude- and orbit-control, required for next-generation science missions like telescope interferometers or gravitational wave observatories. This engine produces a thrust of 1-100 µN (even mN with a recently developed multi-emitter). Such highly controllable thrusts enable satellite formations to detect e.g. planets outside of our solar system (DARWIN) or gravitational waves as predicted by Einstein more than 80 years ago (NGO). My team cooperated and received contracts from NASA, ESA and major industry such as ASTRIUM or research institutions such as the Max-Planck institute.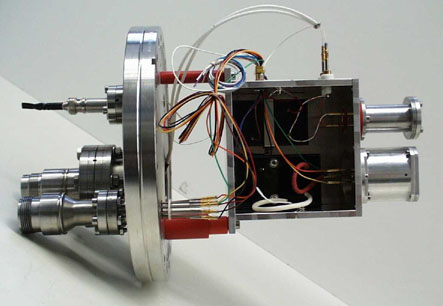 In addition to research on thrusters, I'm also developing high-performance numerical plasmasimulations for electric propulsion thrusters. These simulations are used to predict the plasma environment around satellites and assess possible contamination and lifetime degradation issues. The software was used during my co-investigator assignment on the first European spacecraft going to the moon - SMART-1, which was launched 2003.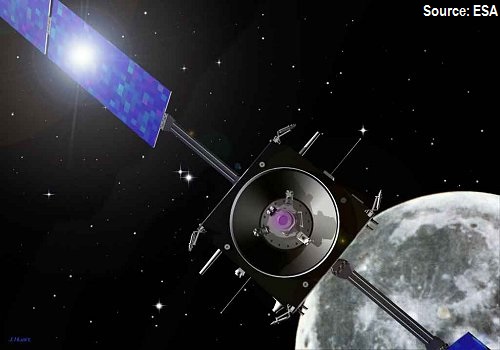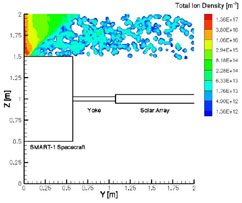 My passion is to investigate revolutionary propulsion concepts that can ultimately enable us to build science fiction technologies like the starship Enterprise. Apart from studies (e.g. for ESA - "Gravity Control and Possible Influence on Spacecraft Propulsion: A Scientific Study"), I´ve carried out a number of theoretical and experimental investigations such as gyroscope anomalies around rotating mater/superconductors at low temperatures or the influence of temperature on gravitation.
<![if !vml]>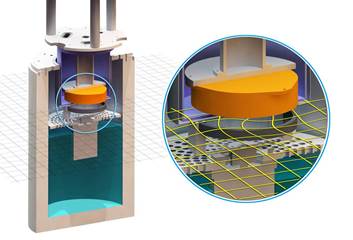 <![endif]>
The advanced space propulsion systems lecture gives an up-to-date overview of everything advanced in propulsion. We assess traditional chemical rockets and look at advanced propellants and new nozzle design, but also at advanced drag control, nuclear ramjet propulsion or propellantless laser propulsion. During the lecture, rare NASA and US Air Force video material will be shown (Delta Clipper test flights, nuclear propulsion testing, etc.), several thrusters (such as a General Dynamics Bi-Propellant Rocket Engine or our In-FEEP thruster) and prototyps such as microfrabricated nozzles will be distributed for hands-on experience. Get involved in an absolute fascinating topic and let's discuss how Manned mars missions are possible or how we could reach other solarsystems!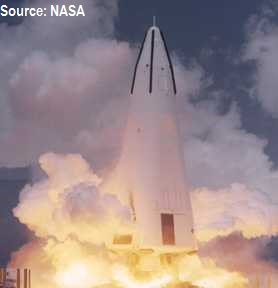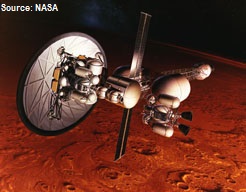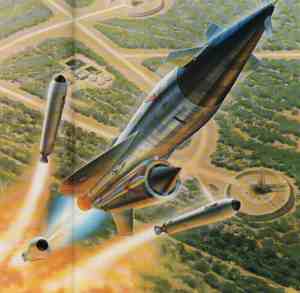 Selected Publications
Tajmar, M., " Evaluation of Enhanced Frame-Dragging in the Vicinity of a Rotating Niobium Superconductor, Liquid Helium and a Helium Superfluid", Superconductor Science and Technology 24, 125011 (2011)

Tajmar, M., and Scharlemann, C.A., "Development of Electric and Chemical Microthrusters", International Journal of Aerospace Engineering 2011, 361215 (2011)

Tajmar, M., Vasiljevich, I., and Grienauer, W., "High Current Liquid Metal Ion Source using Porous Tungsten Multiemitters", Ultramicroscopy 111, 1-4 (2010)

Tajmar, M., "Homopolar Artificial Gravity Generator based on Frame-Dragging", Acta Astronautica 66(9-10), 1297 (2010)

Tajmar, M., Sedmik, R., and Scharlemann, C., "Numerical Simulation of SMART-1 Hall Thruster Plasma Interactions", Journal of Propulsion and Power 46(6), 1178 (2009)
(invited)


Tajmar, M., Scharlemann, C., Genovese, A., Buldrini, N., Steiger, W., and Vasiljevich, I., "Liquid-Metal Ion Source Development for Space Propulsion at ARC", Ultramicroscopy 109, 422 (2009)

Hulman, M., and Tajmar, M., "Indium Ion Emission from Nanotube Fibers", Nanotechnology 18, 495709 (2007)

Tajmar, M., "Influence of Taylor Cone Size on Droplet Generation in an Indium LMIS", Applied Physics A 81(7), 1447 (2005)

Tajmar, M., Genovese, A., and Steiger, W., "Indium FEEP Microthruster Experimental Charactization", AIAA Journal of Propulsion and Power 20(2), 211 (2004)

Tajmar, M., and de Matos, C.J., "Gravitomagnetic Field of a Rotating Superconductor and of a Rotating Superfluid", Physica C 385(4), 551 (2003)

Tajmar, M., and Genovese, A., "Experimental Validation of a Mass Efficiency Model for an Indium Liquid Metal Ion Source", Applied Physics A 76(6), 1003 (2003) (Rapid Communication)

Tajmar,M., "Advanced Space Propulsion Systems", Springer, Wien-New York, 2003 (ISBN 3-211-83862-7)